With your Eureka! cup you collaborate in gynecological education and health in Senegal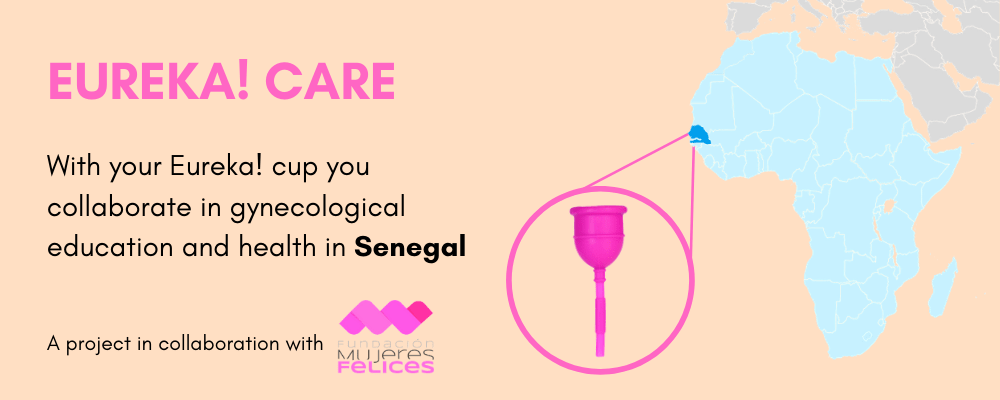 Thanks to the Eureka! Cup charity project that we have promoted together with the Mujeres Felices Foundation, you can now contribute to disseminating gynaecological knowledge and bringing the menstrual cup to the Senegalese women in Kolda region.
WHAT IS THE PROJECT Eureka!CARE?
The roots of this project are based on social commitment to the empowerment and defence of women's rights.
In Sensual Intim, we have a social responsibility to contribute to improve female intimate health, as well as to promote the use of the menstrual cup as the most economical, healthy and ecological alternative for women intimate hygiene.
With this purpose, we signed an agreement with Mujeres Felices Foundation from Barcelona, to develop a program in favour of women: for each Eureka! Cup sold, the Foundation will receive our menstrual cups to distribute them in Kolda region, Senegal. With the donations, an entire educational network is created around menstruation:
Senegalese activists from the Foundation that would be previously selected and trained, will hold informative talks and workshops for the dissemination of knowledge about women's intimate health among women in the Kolda region. This information is essential for the prevention and detection of gynaecological pathologies.
During this talks and workshops they are also informed about the alternatives of the feminine hygiene products and the advantages of using the menstrual cups (healthy, economical and ecological).
Eureka! Cups will be distributed among the interested women, free of charge or at a very low cost calculated to be accessible to them.
If this second scenario occurs, the income obtained will be used for financing the projects (material, salary for the activists, transportation costs for the activists, etc) promoted by the Foundation in favour of women in Kolda region, Senegal.
HOW IS MENSTRUATION LIVED IN SENEGAL?
Senegalese professor and activist Mariama Gnamadio member of the Mujeres Felices Foundation is dedicated to give talks about gynaecological health in schools, and explains that in Senegal menstruation causes absenteeism among women; they do not go to school to avoid feeling ashamed. Nor do they use pads because they are expensive, and even more so for those  women who have stronger bleeding because they need more.
Gnamadio is dedicated to promoting the use of the menstrual cup because it is the most economical and ecological resource: it can last up to 10 years. In this way, women can save a lot of money and it also brings environmental benefits: "here people don't know where to throw the compresses, there are not always places or bins where to do it".
The menstrual cup is a very important alternative since it can be reused without complications, "the girls have been very interested in the cups, and they wish to buy them in Senegal very soon," she concludes.
¿HOW CAN WE COLLABORATE?
In Sensual Intim we have the will to assume our corporate social responsibility by facilitating access to our Eureka!Cup menstrual cup for women in Senegal who lack the resources to acquire them, also contributing to the dissemination of knowledge about gynaecological health. With every Eureka! Cup sold we will help make it possible!
MUJERES FELICES FOUNDATION
Mujeres Felices Foundation promotes actions and initiatives in defense of women's rights, for their empowerment and happiness, and in favour of social progress. Its missions include contributing to the gynaecological health of the female collective, in Spain and in developing countries.
This entity, located in Barcelona has identified areas in Senegal with a high incidence of problems derived from gynaecological pathologies due to lack of information and medical care, as well as in the same areas there is a high prevalence of female genital mutilation, with serious consequences for girls and women who have been victims of these practices.