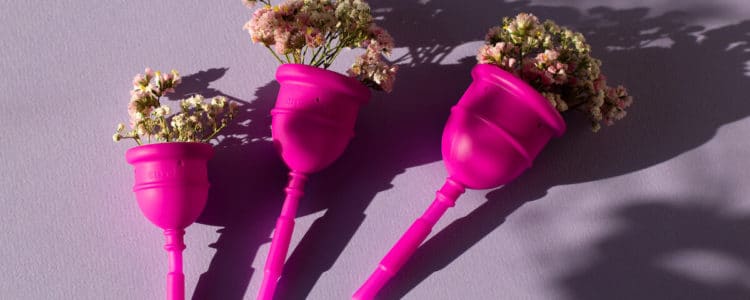 Oct 2021
How to put a menstrual cup? (COMPLETE GUIDE)
Tiempo de lectura:
2
minutos
The principal causes of this problematic situation are desinformation and having a poor sexual education.
---
How to insert a menstrual cup?
When it comes to a menstrual cup, it can be a bit overwhelming to think about how we can put it in and take it out of the vagina. Especially in those moments when we are away from home and find ourselves in a public bathroom with shared sinks. Obviously we don't want it to end up like a gore movie.
To avoid a situation that makes us feel uncomfortable, Eureka! Cup has an ergonomic design that not only makes it easy to insert the menstrual cup, but also to simply empty it in the privacy of the toilet.
---
---
Here we share a simple guide to start using Eureka! Cup:
Step 1
Sterilize and clean Eureka first! Cup by boiling it for 5 minutes over low heat. This will prevent external agents and microorganisms that can affect the vaginal flora from entering the vagina and causing an infection.
Step 2
Try to moisten the cup to facilitate its introduction into the vagina. Then press the edges of the cup inward so that you can form a U with the cup. Another option is to place your finger on the top edge of the cup and push inward to form a triangle. The idea is that when introducing it to the vagina, the edges can enter easily.
Step 3
Insert the Eureka! Cup into the vagina with the folded edges between your fingers – forefinger and thumb – so that the stem is outside the vaginal entrance. It is important to have a comfortable position and that the vaginal muscles are relaxed so that separating the inner lips and inserting the cup is easy and relaxing. It doesn't have to hurt. Avoid inserting the menstrual cup too deep, as it can cause leakage.
Step 4
Once inside, press down on the base of the cup – not the stem – and turn it fully in either direction. Turning the menstrual cup will ensure that the cup opens on the inside and is positioned towards the coccyx. Finally, insert the stem between the cup and the vaginal wall, so that when you need to empty the menstrual cup, you can just sit on the toilet, unfold the stem, and reinsert it.
Step 5
To extract the Eureka! Cup is enough to gently grasp the stem until it reaches the base. Press down on the base and gently pull to remove the cup. Wash the menstrual cup again with warm water and mild soap.
Learn a little more about the benefits of Eureka! Cup for your health and intimate hygiene.
---
🥇 GET YOUR EUREKA! CUP NOW🥇